Find out more about our wall decors
Wall decors are printed on non-woven paper, sustainably sourced from environmental, societal and economic standpoint. Paper used for our wall decors are sourced from FSC-eco-managed forests (Forest Stewardship Council), an international NGO that strives to guarantee the sustainable management of forests.
Made of a mix of textile fibers and paper, they offer the following advantages:
Very resistant, almost tear-proof.
Thanks to high paperweights, they do not shrink when drying.
Almost entirely waterproof (which enables cleaning them)
Printed in France with a digital printing, wallpapers permit an exceptional translation of the most meticulous details from the Diptyque archives and offer a realistic rendering of the wall decors.
You can easily calculate your wallpaper needs on our website by entering the dimensions of the room. It is also possible to make a simulation to see the decor in your room.

How do I install the wall decor?
You will find the installation instructions inside the product box.
To hang your wall decor, you will need the following material, usually available in your DIY store:
Measuring tape
Spirit level or plumb line
Glue for nonwoven wallpaper, there are colored products that help to distribute the paste evenly on your wall (the color disappears when drying)
Glue rollers or brushes
Smoothing roller or clean, dry
cloth
Damp sponge
Upholstery scraper
Cutter and replacement blades
Before installation, make sure your surfaces are perfectly dry, smooth and uniform and that have been given a coat of white wall decor primer. Be sure to remove light switches, sockets, wall brackets... to ensure a quality result. Contrary to traditional wallpaper, non-woven wallpaper does not require any sizing or priming. More rigid, the positioning is much easier.
For damp rooms, bathrooms or kitchens, we recommend that you do not place the wall decor in direct contact with water (shower cabin, around a bathtub, credenza...) and that the room is well ventilated. However, we recommend that you apply a layer of resin to protect your wall décor.
For paste and ink resistance to direct UV exposure, Diptyque wall décors cannot be hung outdoors.
Frieze Format: measure the length of the wall to be decorated and cut the corresponding horizontal length, adding a few centimeters for margin, from the frieze.
Roll Format: measure the height to be decorated and cut the corresponding length plus a few centimeters for margin from the roll. For lengths that follow, pay attention to ensure juxtaposed patterns line up before cutting the roll
You can install the wallpaper on your own or with another person for more ease, here are the steps to follow:
1. Trace the length to be hung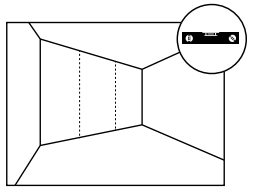 Starting from the left side of the wall to be decorated, and using a pencil, lightly trace a vertical reference line equal to the exact number of centimeters of the length to be hung; use a spirit level or plumb line
to ensure straight lines.
Frieze Format: reference lines are drawn horizontally and must equal the exact height of the frieze.
2. Applying glue to wall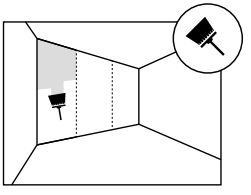 Apply a generous amount directly on the surface to be decorated with the first length; use the glue roller or brush. For ultimate results and adherence, apply glue slightly beyond the vertical or horizontal reference mark.
Frieze Format: apply glue to the total area of the surface to be decorated.
3. Hanging lengths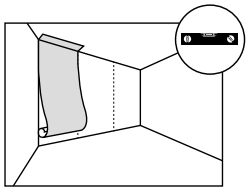 Unroll the length directly on the wall, going from ceiling to floor. If you're not sure the ceiling is perfectly horizontal, allow for a margin of a few centimeters of wall decor on top. Likewise, ensure a small margin on the bottom, if you're not sure your floors or baseboards are horizontal.
Frieze format: unroll the segment from left to right (study beforehand how the pattern is supposed to look before unrolling). Allow for a few centimeters of margin for wall decor both left and right of the surface to be decorated. In all cases, no equalizing (cutting off remaining margin) is to be done before
the entire surface is totally dry (see step 6).
4. Smoothing out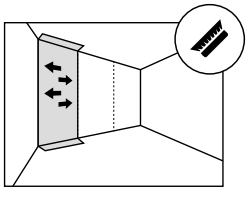 Smooth out the entire surface decorated with movements from the center outwards using a smoothing brush or clean, dry cloth. This ensures the removal of any potential air bubbles underneath and eliminates excess glue. Any glue seeping out from a length's border can be easily removed with a clean, damp sponge.
Frieze Format: smoothing goes from left to right.
5. Aligning (matching up patterns of juxtaposed lengths)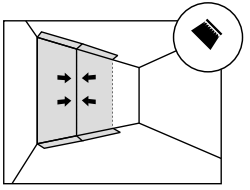 For each length to be hung, repeat each of the 4 steps above, paying particular attention to aligning or matching up the patterns or panoramas (depending on the format) of two juxtaposed lengths. Diptyque wall decor never shrinks after drying: lengths should align perfectly, with borders touching, without any overlapping or gaps. Lengths can be repositioned as long as they're not totally dry (please refer to instructions provided by glue manufacturer). For ultimate results, use a wall decor scraper to level out the aligning of two juxtaposed lengths.
6. Equalizing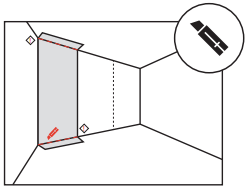 Only once the entire surface decorated is dry (please refer to drying times provided by glue manufacturer), remove any remaining margin on the bottom, top and sides using a clean, sharp cutter, preferably new.

To take care of your wall decor, you can clean them. They can be washed with a sponge and mild detergents such as household soap. Please do not use solvent-based detergents or abrasive scourer, as they will detach the inks from the substrate.