You will find the installation instructions inside the product box.
Simply turn it over to begin a diffusion cycle of about an hour and enjoy a scent and sensory experience: the Diptyque hour. Ideal to perfume small spaces for several months, until the perfume has totally evaporated, it can then be refilled once with the same fragrance.
Below we have highlighted some key points about our hourglass diffuser to explain how this product works and for you to be able to get the best out of it:
It is important not to place the hourglass diffuser directly on a surface that could be damaged.

Never interrupt the diffusion cycle. It is important to let the cycle finish and wait 15 minutes before turning the hourglass over. If the cycle is interrupted this may cause the hourglass to leak.

Tighten the glass pieces on a regular basis to ensure a good seal on the central part.

Your hourglass can be refilled twice with the same fragrance which will last about 3 months dependent on 2 cycles per day until the fragrance evaporates completely.

To enhance the diffusion of the fragrance, place the hourglass near a point of natural convention that opens into the room.

The hourglass is designed as a scented object to give a slow, gradual diffusion of fragrance.

The hourglass functions on a natural cold-diffusion process based on the principles of capillarity and gravity, this allows the hourglass to diffuse a subtle scent in a localized area.
Please follow the below steps accordingly to change the fragrance refill on your hourglass :
Gently unscrew the original fragrance from the diffuser and open your new refill.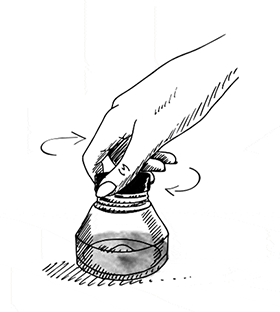 Fasten the new fragrance refill on your diffuser by ensuring that the objects are aligned with one another. To ensure that it's secure, please tighten until you feel a "click" sensation.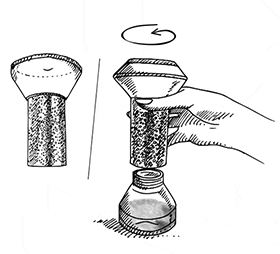 Your Hourglass is now ready to use!