When did you create your first fragrance?
In 1968, seven years after Diptyque was founded, Desmond Knox-Leet, one of the three founders, persuaded his two friends to create their own eau de toilette. Inspired by a potpourri recipe and based on notes of cinnamon, rose, clove, geranium and sandalwood, they named it L'Eau.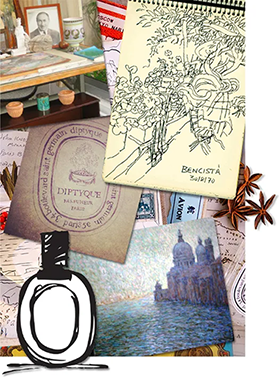 This is how a whole collection of fragrances was created along the same lines, painting an original and unique olfactory landscape. L'Eau also had two distinct characteristics that would become essential to any Diptyque eau de toilette or eau de parfum, these being a name containing the 'O' sound (Philosykos, Tam Dao, Eau Rose, Eau de Sens, Orphéon, Eau Capitale, Vetyverio, and so on) and an unexpected note that slipped into the olfactory signature of the fragrance.
These days, guided by its rich heritage, Diptyque perpetuates an olfactory tradition that is unrivalled in the classic perfumery repertoire, with no distinction between the male and female genders.